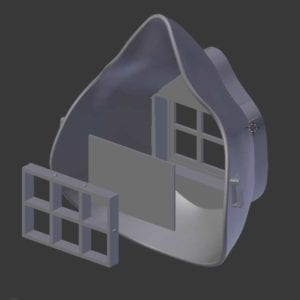 I thought I'd update you on the latest regarding the medical mask project.
The priority for the mask project was to get the masks developed and into the hands of those who need them as quickly as possible by establishing a cross-functional team to champion it. Fortunately for us all, we were not the only ones.
This mask calls for manufacturing at the largest scale possible for maximum short-term impact. As we reached out to others working toward a similar goal, we discovered several groups here in Milwaukee and across the country making great progress. Locally, they are plastic mold injecting masks.
Here's Where We're At
Our 3D printed mask prototype was initially based on the open-source design provided to the public by the Billings Clinic in Billings, MT. That group, called "Make the Masks" has evolved very quickly. They provide design and instructions for "The Montana Mask" on its website. Check it out if you're interested.  https://www.makethemasks.com/.
With supply chain challenges in the filter world, our mask is a modification of the Montana Mask.
It accepts CPAP HEPA filters from Amazon.
HEPA filters, by definition, filter particle sizes of .3 microns or larger.
Our mask is available online as well. You're welcome to download and print as well. This is also an open-source project. Use as you see fit and read the disclaimer below*.
After much discussion, we've chosen to not mass produce our masks and have stopped working on it. FDA and NIOSH approvals require getting masks in the field for testing, which created a project timeline that didn't align with our team's resources.
We're grateful for the positive response we received throughout the project. It's a testament to the willingness of our community to assist others when a crisis arises. We wish you the best. Stay safe and healthy.
Sincerely,
Adam Brown
* DISCLAIMER: Please be aware that this mask design is not intended to replace standard protective equipment such as N-95 masks or surgical masks. The use of these 3D printed masks has not been fully tested and has not been approved by federal or state authorities. Anyone associated with the design, assume no liability and make no representations, warranties, or guarantees regarding the safety, efficacy, or appropriate use of these masks. The use of this information for any purpose is at the maker's and user's own risk.