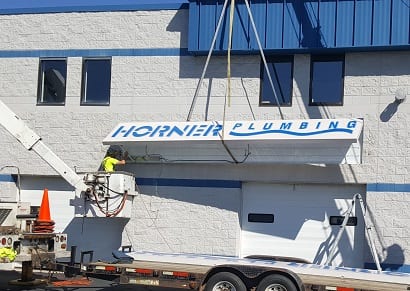 Established in 1969, Horner Plumbing is a contractor that specializes in residential, remodeling, commercial and multi-family construction.  The owners of this family-owned business fully embrace the importance of having quality exterior signage on their facility.  That means the exterior sign has to do an outstanding job of representing the brand that they have worked so hard to establish.  And it has to ensure their business is clearly visible to traffic on the street (#SignsThatDeliver).
DIRECTIONAL SIGNAGE
Horner's facility in Pewaukee, Wisconsin features two driveways.  One driveway is for the company's Shipping and Receiving Department and therefore serves a variety of different commercial vehicles.  The other driveway is for customers and employees.
It was decided that this would be the first part of the project because it was important to make sure folks get to the right entrance.  The Sign Effectz team built two directional signs, one for the end of each driveway (#DirectionalSigns).
REPAIR VERSUS NEW
The previous sign had a broken swoosh and several broken foam letters.  And it's not uncommon for business owners to consider repairing their existing sign rather than purchase an entirely new sign. After weighing the cost versus benefit of new signage, the Horner owners chose to make the investment in a new sign.  The brand name means a lot to them.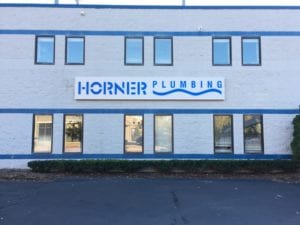 Josh Brown, Sign Effectz, Inc. Account Manager, commented, "Through presentation and collaboration, the Horner team decided to expand their original budget almost five fold to purchase signage that best represents what their plumbing company is all about. Our job is to build and install a sign that aligns perfectly with their brand identity."
The style of sign chosen for the building was a push through acrylic cabinet sign, which would best serve their brand. We took down the old foam letters.  We also helped expedite permitting with the local municipality and advocated for the new sign's legibility.
Material: Routed aluminum; push through acrylic
Lighting source: LED internally illuminated
Size: 30" tall by 20' long
WHAT'S NEXT
The final stage of the project is to install an awning above the Shipping and Receiving Department door. It was originally thought that flags would sufficiently call attention to the location of the entry door. However, an awning delivers a number of benefits that a flag can't. According to Josh Brown, "you get a covered area for folks who have to wait for the door to be answered. It's a courtesy for their shipping and receiving vendors.  An awning is essentially multi-purpose: it provides the way finding customers need, plus provides shelter from the elements."