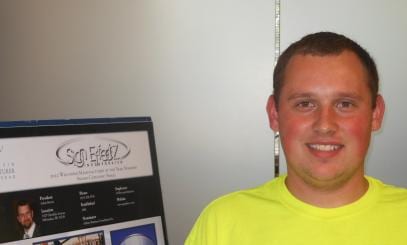 Fresh thinking and a knack for how things work. That's what makes Alex a great addition to our team in the shop. Alex is our newest sign builder and he brings a mechanical aptitude to the position. He's been working on cars for years both as a hobby and as a pro.
He's currently a jack of all trades at Sign Effectz, getting directly involved in each of the various steps it takes to fabricate a commercial sign; that means sanding, shipping, assembling, paint prep and welding. But his favorite part has been directing car traffic at a local sign installation so watch out for him on the streets of Milwaukee!
Alex went to Port Washington High School where he excelled at Principles of Engineering, CAD, Welding and Automotive classes. He's also attended Grafton where they have the best Automotive program in the state. Alex had this to say about his education, "I learned a ton about cars that your average person would be challenged by. I became Ford AAA certified and have a Student ASE badge which I wear on my Grafton shirt. Our class competed at both state and at nationals and won."
When Alex isn't at work, he's into snowmobiling and four wheeling (he got his first four wheeler when he was 5). You know you're into it when you drive your four wheeler from Suring, WI to Houghton Hancock, MI on a 3-day trip two years in a row! And he not only rides them, he repairs them as well. He's the guy in the neighborhood that everybody brings their car to.
Welcome aboard!
-Adam