Cheba Hut toasted sub sandwiches chose us for the signage at their prime location on Oakland Avenue in the UW-Milwaukee neighborhood. This neighborhood has high pedestrian and vehicle traffic, which presents a great opportunity for this unique sandwich and drink joint.
BUILT FOR CREATIVITY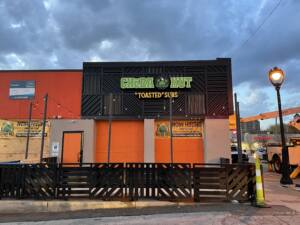 We love a creative approach to branding. And you can't get more creative than the folks at Cheba Hut.
The Cheba Hut story is highly creative, edgy and straightforward. "Cheba Hut is a "Toasted" sub concept that has been curing munchies since 1998. Our Huts not only tout the best bread in the business, but our foodies "Flip the Bird" to the establishment with our homegrown food, our relaxed environment and our amazing employees; who actually enjoy rollin in our joint."
EXPERT SIGN FABRICATION AND INSTALLATION
We fabricated and installed two sets of Face-lit/Back-lit raceway mounted channel letters (24″ tall "CHEBA HUT + LOGO" 12″ tall "TOASTED SUBS"). The package also included white acrylic faces with 3M vinyl graphics. Letter backs are white poly with 3M vinyl graphics for a green halo glow affect.
Our entire team wishes the Cheba Hut crew all the best at their tasty new location!