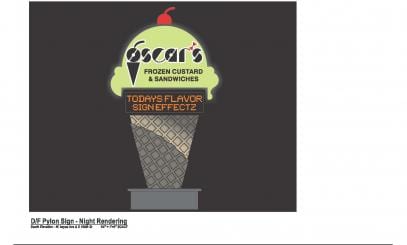 Drawing of new sign for restaurant
What makes for a great community? Collaboration between city government and local business leaders ranks high. How the city of West Allis, Wisconsin and town of Brookfield, Wisconsin worked recently with the owners of local custard and hamburger restaurant, Oscar's, is a prime example.
Oscar's holds a special place in the community, serving tasty custard on homemade waffle cones and fresh burgers in a family-friendly environment. Everyone knows Oscar's. It's an iconic part of the casual dining scene in West Allis (with its additional location in Brookfield and plans to add one in Franklin).
The owners of Oscar's, Jim & Susie Taylor, have determined it's time for major upgrades to their brand image and store signage. A new 23 foot high sign is planned for the West Allis and Brookfield locations.  However, the sign ordinances limits sign heights much lower than that.
Because they fully appreciate how the unique design of the new sign can enhance the restaurant's business and attract new customers, the West Allis planning commission has agreed to approve the additional height and square footage using their unique sign ordinance process.  The new design is also getting the green light in the town of Brookfield.
Account Manager, Michael Dlugi brainstormed with Oscar's owners Jim & Susie Taylor on the design.  Susie showed Michael one of the delicious cones they serve and proclaimed, "This is how I want my sign to look!" This isn't the first time we've helped a Milwaukee area organization expand their brand visibility. We built and installed the giant Stone Creek Coffee cup on top of the coffee roaster's building downtown as well as the 30' wind palms metal sculptures at Discovery World Museum for artist Ned Kahn.
The collaboration is good news for residents of the community.
Community leaders are working with business leaders to enhance the commercial viability of the area, which means residents have everything to gain and nothing to lose. The new sign will help drive customers into the city.  These visitors will spend more money in the community and will support nearby businesses.
The design, which is meant to resemble the homemade waffle cones served at Oscar's, is dramatically better looking than current signs.  And it will make it easy for folks to learn the flavor of the day because the new sign will change colors based on what the flavor of the day is.
The new signs will incorporate the latest in energy efficient technology.  The advanced lighting technology will not only improve the look of the immediate area, but it will also help reduce energy consumption by up to 75%.
Conclusion: Folks in West Allis and Brookfield should be proud of their community leaders, this is a great example of how they're helping their communities remain a vibrant place to live and are collaborating with local commerce.