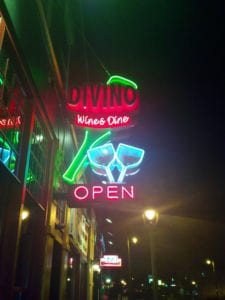 Sign Effectz, Inc. is pleased to announce a First Place award for the new neon sign we designed, built and installed for Divino's Restaurant in Milwaukee, WI.  The competition, Wisconsin Sign Association's (WSA) 2013 Sign Design Contest, recognizes design excellence in a number of categories including Individual Letter Signs.
When the owners of Palermo Villa updated the look of their restaurant and re-launched it under the Divino's name, they looked to Sign Effectz, Inc. to update the building signage. Chief among the requirements was neon lighting to give it a retro look.  The sign, featuring a wine bottle and two glasses, is airy and bright.  It is made of fully fabricated aluminum with exposed neon to highlight the bottle and glasses.  The restaurant name features LED channel letters that are backlit for a bright, but warm halo effect at night.
About WSA: The Wisconsin Sign Association, Inc. was organized as the Wisconsin Advertising Association in 1970 to enhance and promote the professionalism, knowledge and image of its members and the on-premise sign industry.  Through its programs it seeks to elevate the standards of manufacturing, installation, service, and efficiency in the sign industry.
Check out the Biz Times coverage of the award.