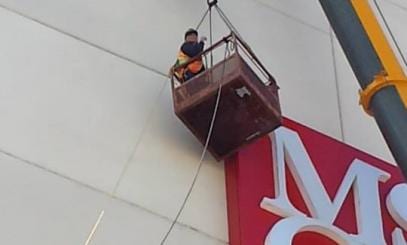 Although he's only been with us for a year and a half, Steve Bruder has more than two decades of sign fabrication and sign installation experience.  We look to Steve's attention to detail as well as his knowledge of how things work in the field to make sure every sign installation goes go smoothly.
Steve's most visible job so far? It has to be the installation of the new building signs for the Milwaukee School of Engineering (MSOE).  Steve was the go-to guy 150 feet above the street installing the university's new 16' cabinet signs.  And according to Steve, the view of downtown Milwaukee was spectacular.  Better yet for Steve, the boss was nowhere around up there!
Interesting things about Steve: He stepped away from the sign industry for 2 months to assemble John Deere tractors…he's an avid walleye fisherman on Big Cedar Lake…he also enjoys target shooting.  His favorite part about working at Sign Effectz: payday!
Welcome aboard!
-Adam