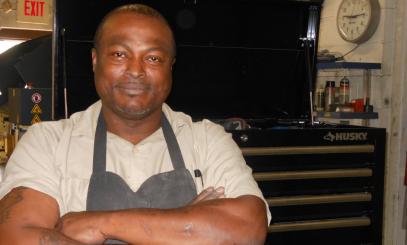 As a custom sign building company, no two signs are alike. That means we need the kind of employee in the shop that likes variety.
That's Mike Brackett. He's in to every type of operation we do and he does them well. He's only been with us about 2 months, but he's assembling parts, shearing, cutting, operating the brake press, welding and even helping with the paint. His favorite operation: putting the skin on the sign before it goes out into the field. It gives him a sense of accomplishment.
He's also a hands on guy so we count on him to get things done and to apply his work ethic. Pitching in is a big part of the culture. There are no bureaucratic layers here. And that's what impresses Mike the most about Sign Effectz. "The owner recognizes the hard work we put in and he works just as hard as we do. If you need an extra hand, he's there to jump in with the rest of us. I love that about this place!"
When he's not at work Mike hangs out with his family and plays with the kids. He's also into lifting weights and working on his car.
Welcome aboard Mike!