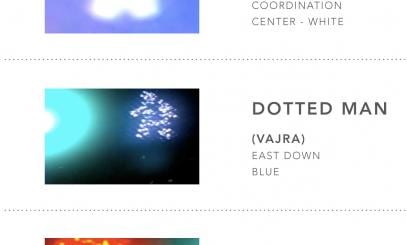 Back in January, we introduced you to a very exciting project our friend and professional artist Therese Lahaie calls "Crossing Signal Mosaic". Her goal is to create "glass that really looks like stained glass, like a contemporary illuminated painting." The way she describes it is pretty cool:  "transmitting light through glass as a canvas".
I've been busy since January on both design work and prototype production for Therese.  And since I had a visit last week with her, I thought this is a good time to share an update with you.
ADAPTING EXISTING TECHNOLOGY
We designed aluminum boxes that house 4 independently controlled projectors, which are going to project her images onto a glass screen.  The glass is covered with projection film so the images are crisp, clean, and easy to see. The light source is a 9 watt RGB LED spotlight projecting a 4" diameter Gobo stencil.  We made the custom projector based on size constraints (housing, light engine, etc).  The light source gives enough power so the images are visible even during the day.
What's a "gobo"?  Thanks to Wikipedia for a definition.  The term gobo is derived from "Go Between" or "Goes Before Optics".  It's a physical template slotted inside, or placed in front of, a lighting source, used to control the shape of emitted light.  Though the term "gobo" has come to generally refer to any device which produces patterns of light and shadow or various pieces of equipment that go before a light (such as a gobo arm or gobo head).
If you've been to a concert or a night club, chances are good you've seen a light show using Gobos.  Some of American Idol's live events have featured them and they're commonly used in advertising by big brands (Ford and Coca Cola for example).  The technology has been around for decades.  In fact, some people consider the original "batman" signal projected up into the sky is the first ever Gobo!
WHERE THE REAL WORK HAPPENS!
The real work and artistry is in the production of the light show.  Similar to the engineers at NASA as they work with astronauts, Therese trusts us to give her the tools and instruments to develop a production; which would include the lights, the gobo projectors and most importantly, the controller and software.
Our goal is to make the user interface intuitive and easy to use.  She just knows she has to click a button and it responds!  A user-friendly interface enables her, a lighting engineer or theatrical designer to do their job.  Creating an amazing light display is like conducting an orchestra.  When they orchestrate a light display, they're telling a story with light instead of sound or pictures.
WHAT'S NEXT
This is the stage we're at.  We've given Therese the instruments she requires; now the real work begins for her.
The excitement level is definitely on the upswing as we get closer to the expected installation this fall.  Located in the lobby of a new 125 unit apartment complex in Emeryville, California, it will amaze the residents and visitors there.