This sign package for the Washington County Fair Park in West Bend, WI includes signs in 3 locations on the park's campus – one major highway sign plus matching signs at two entries to the park. We refaced all the existing identification signs. We also re-lamped them with Keystone brand LED lighting. The Electronic Message Centers (EMC) play a key role in communicating the parks' events to the public.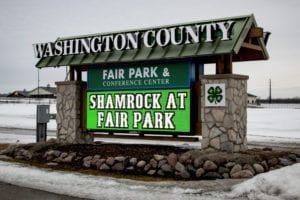 HIGHWAY SIGN FEATURES:
16mm full color Watchfire EMC display (previous display was a 35mm 4' x 17'); size: 7' x 17' W. The resolution/pixel count in the new display is 2 ½ times that of the old display. Implementing 281 trillion colors vs basic monochrome red.
CHANNEL LETTERS: New 24" tall raceway mounted channel letters reading Washington County mounted on the roof structure to highlight the County owned property.
EXISTING SIGNS: We refaced all the existing signs with new Flex faces increasing the size of Fair Park lettering, dramatically improving readability, and freshening the current 4H sign.
ENTRANCE SIGN FEATURES:
One each at the South Fairgrounds Entrance and the East Fairgrounds Entrance.
Utilizing the existing structure we removed all the current signs.
We added (4) sets of 14.5" channel letters on the roof structure reading Washington County.
We installed (4) new 2' x 10' SignComp extruded aluminum sign cabinets with polycarbonate face and LED lighting reading Fair Park Conference Center.
We replaced the 12" x 10' monochrome EMC with (4) new Watchfire 16mm full color 3' x 10' displays.