LOW KEY ATMOSPHERE – The folks at Public Craft Brewing Co want you to feel welcome in their new taproom. In fact, their new space is all about enjoying a craft brew and getting together for conversation.
"We try to keep things low key around here. No TVs, no jukebox, no reason you can't hear yourself think. You can play some shuffleboard, grab a book or bring in a couple vinyl records." The new craft brewery even encourages customers to bring in food as well as add to their collection of local menus.
PERFECT MATCH – Like all the channel letter signs we design, fabricate and install, we perfectly match the customer's brand specifications. Our customers put all their energy into creating their brand. It's our job to provide signage that is a perfect match.
EYE-CATCHING NEW SIGNAGE – You'll find this eye-catching signage in a historical location in downtown Kenosha, Wisconsin, minutes from Lake Michigan. It features:
Double faced illuminated flag sign above existing canopy
Sloan Flexibrite (red) LED neon tubing for all of the open-faced channel letters
QuickMod 3 (white) LED internal illumination on both sides of the routed lower cabinet
Fabricated aluminum retainers to support the sign face and conceal fasteners
MAP satin painted finish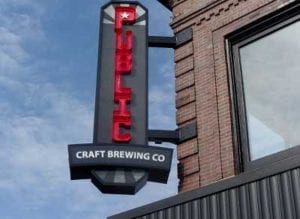 HISTORIC CONCEPT – The customer provided us with preliminary design ideas and a rough sketch of a concept.  Sign Effectz, Inc. Account Manager Michael Dlugi describes it this way, "During multiple conversations, we discussed lighting and effect options incorporating modern production methods and technology into a unique "historic" concept to submit to the Kenosha Historic Preservation Commission.  The Commission unanimously approved the sign and raved about the details and attention to the historic nature of the area and the building."