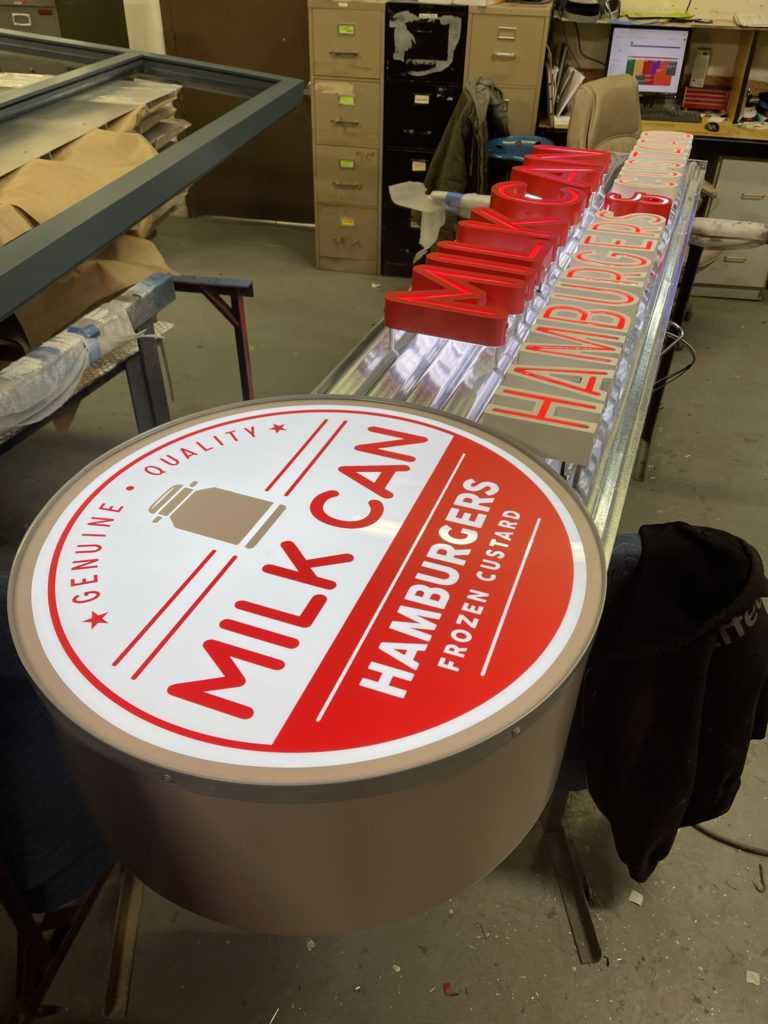 We are very excited for Milk Can Hamburgers and Custard. Their Muskego, Wisconsin restaurant opens in March, 2021.
BRAND ALIGNMENT – Not just any new restaurant sign will do when you're building a brand. That's why it's more effective to give our customers multiple design options. Our sign designers did just that with the owners of Milk Can Hamburgers and Custard.
We presented them with a variety of sign design concepts ranging from super creative to just the basics. What caught their eye was the concept that factored in an important architectural feature: the galvanized corrugated awnings on the exterior of their restaurant. It's all about brand alignment!
ACCOMODATING SCHEDULE – Our installation process is painless. And that's of paramount importance to restaurant owners. They have enough on their plate (pun intended)!
It's on us to make every new restaurant sign installation go smoothly by accommodating the customer's accelerated schedule. The sooner they open, the sooner they start serving customers.    
COLLABORATIVE PARTNERSHIP – Sign Effectz, Inc. Sales Manager Michael Dlugi worked closely with the customer. According to Michael, "We're delighted to partner with Milk Can and coming up with a sign design that helps them meet their brand requirements. I'm excited for them because it's the kind of place I like to go with my family. The whole team looks forward to assisting with their next location."