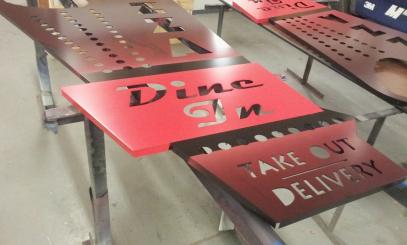 Nicolas Ortiz has been with us for over a year and has had a major impact on most of the exterior building signage we've built and installed in that time.  As a lead painter, he plays a huge role in making our customers' signs stand out, especially channel letters.  No matter how well-fabricated a sign is, the paint is the final dressing and most visible part.  So it's got to be perfect!
He's painted outdoor monument signs for clients such as Waterstone Bank and Gauthier Biomedical, which required a special metallic finish paint that can be challenging to work with.  He is our go-to painter for retail restaurant chain Qdoba as well as custom, one off signs like the 11' police badge sign for the Milwaukee Police administration building.
In his spare time, Nicolas enjoys playing and watching both soccer and baseball.
Our thanks go to Nicolas for his attention to detail, hard work and great skill at painting!
-Adam Brown