Sign Effectz, Inc. is pleased to announce that the electric free standing sign we built and installed for Oscar's Custard & Sandwiches received first place recognition from Signs of the Times magazine.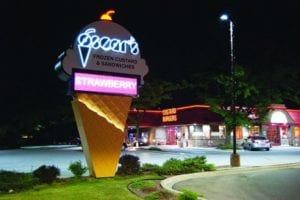 Account Manager, Michael Dlugi brainstormed with Oscar's owners Jim & Susie Taylor on the design.  Susie showed Michael one of the delicious cones they serve and proclaimed, "This is how I want my sign to look!" This isn't the first time we've helped a Milwaukee area organization expand their brand visibility. We built and installed the giant Stone Creek Coffee cup on top of the coffee roaster's building downtown as well as the 30' wind palms metal sculptures at Discovery World Museum for artist Ned Kahn.
The highly creative sign includes an Electronic Message Unit which spells out the custard flavor of the day.  The upper part of the sign, which resembles the frozen custard, changes color and is controlled by the owners of the restaurant via a wireless remote.
The award winning free standing sign can be found at several Oscar's locations throughout the Milwaukee, Wisconsin area. Oscar's holds a special place in the community, serving tasty custard on homemade waffle cones and fresh burgers in a family-friendly environment. Everyone knows Oscar's. It's an iconic part of the casual dining scene.
For a complete description of the sign and the award, follow this link to the online version of Signs of the Times magazine.