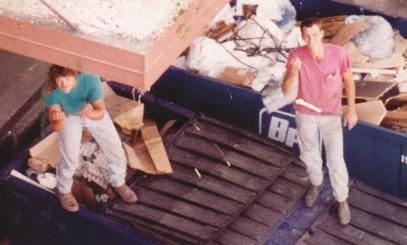 This is a short story of Sign Effectz, Inc, my business partner and good friend, Rick Rossetti.
Ten years ago I asked our top team members where they wanted to be in 5 years. Rick Rossetti's reply was "to run a large sign company".  My response to him was "the only way is for me to get out of your way".  This opened the opportunity for me to focus on AFX and Rick's opportunity to reach his goal. Since that point, he has improved systems, management processes and culture.
Based on our interaction with various consultants and business coaches, he and I have both grown and understand the business the same, but somewhat different levels.
Rick's is truly a business man in every sense of the word. From cash flow management, operations, estimating, design to team leader…the list goes on.
Outside of business, he is one of the hardest working individuals I know.  If it's not turning wrench on his 1970 Charger, it's constructing a building to work on his pet projects.  He is also one of the most selfless people I know.  He is willing to lend a helping hand to anyone who needs it – putting up a garage, hand lettering their work vehicle, etc…  With all that, Rick still maintains his stature as an incredible family man. Spending time with his kids and grandkids and telling me the joyful stories of their adventures.  He really understands what it takes to achieve the balance between work and family.
So here's the story…I met Rick in the early 1990's at a sign company no longer in business, Sign Factory.  Rick was an installer and I was a fabricator.  We both moved up the ladder and began working together in management.  I was Production Manager and he was Install Manager.  We shared an office, which gave us the opportunity to collaborate schedules, workflow, etc…  We worked very well together, a unique flow of communication, understanding and chemistry. At the time, the company was back logged about 2 months' worth of overdue orders. We made it one of our goals to get the company back on track through workflow processes. Shockingly enough, we reach our goal in a matter of 3 months. With the sale of Sign Factory and the changes that come with mergers & acquisitions, we parted ways.
I started Sign Effectz out of my garage and Rick took a job at J & B Signs in Janesville, Wisconsin.  J&B is still a strategic partner of ours today.  Within 1-2 years of starting Sign Effectz, I was convinced I needed a partner. One person can do many things, but not all at the same time. I needed a quarterback and Rick was my first and only pick. I knew, with his work ethic, he'd always give 150%. As a young startup company, trying to get the all-star, Sign Effectz just couldn't afford him.  Then, the day came. Rick decided he needed a change. He made the jump to Sign Effectz.
Rick has been a KEY part of getting us where we are today.  At the time, we were moving into the old Art Craft Sign Co. building on Stanley place.  On his first day, he helped me install gas pipe on a much needed new furnace for the building.  We've had laughing conversations about that day and some of the concerns Rick had at the time with his new position, but he hasn't looked back since then.
Rick has always been our expert on installation and methods and processes used in the field. Over the years, he's used his experience to the max and moved into operational management, then into complete management of the business.  He does cash flow, purchasing, estimating, billing…the list goes on. He's both a key element to the business and a lifelong friend.  I've had the pleasure of spending ten days on a motorcycle trip with Rick and his wife in Northern California last year.  Unknowingly at the time, that trip turned out to be one of those things that keeps our personal relationship strong.
In operating a business, there are tons of stress points, far too many to mention. One spends a lot of time in the trenches operating the business. Wearing and tearing at patience, emotions, physical capabilities, etc…but one has to make sure, time is spent away or outside of the business.  It gives us the opportunity to recognize people as so much more than just "doers".
My gratitude to Rick is from the heart.  We are both incredibly passionate about the sign industry.  We have always had the same goals.  He comes from 3 generations of sign builders.  His family is hard-working, blue collar skilled tradesmen.  When he was 12, he was on the truck with his dad installing signs!
In a single statement…I'd like to thank Rick for taking a chance on an idea and having the same vision as I.  The idea was this…to be in control of our future and to do the work we are so passionate about.  He is truly the heartbeat of the company.  I can't imagine making the hard business decisions necessary without the security and support of Rick.  His opinions, values and ethics set the stage for an incredible culture within our company.  It's a proud pleasure to call him my business partner.