We couldn't be prouder of being chosen to fabricate and install the outdoor monument sign at the Midwest Orthopedic Specialty Hospital (MOSH) Performance Center Clinic in Franklin, Wisconsin. Partnering with Boldt Construction was a great part of this project. We look at this as another opportunity to prove our signs are built for durability.
The MOSH physicians and staff are committed to excellence in everything they do. That includes the exterior appearance of their new facility, part of a health and wellness district that includes a professional baseball stadium, a hotel, retail stores, restaurants and residences. The clinic is an integral part of a growing community that focuses on active and healthy lifestyles.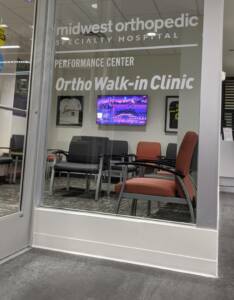 Our fabrication team created a new routed aluminum face for MOSH's existing single-sided outdoor monument sign. Featuring white and smoked acrylic, it's an impressive addition to their location. The dual color acrylic appears black in daylight and white at night, creating a professional appearance.
We also supplied and installed a matching vinyl logo to the clinic's interior glass door. This is an outstanding way to a consistently branded identity for our customers.
Got a sign project that needs to be built for durability? Contact one of our sign experts today.