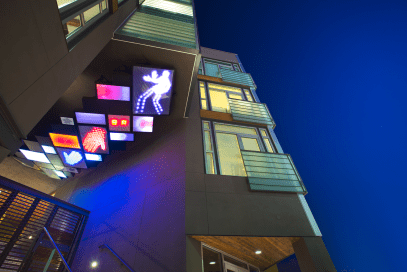 BACKGROUND & RELATIONSHIP
Therese Lahaie, a professional artist in Emeryville, CA brought us in on her pubic art project entitled "Crossing Signal Mosaic".  Therese is a referral from Ned Kahn, the artist we served on the Wind Palms kinetic sculptures.
In my mind, Therese's Crossing Signal Mosaic represents the beauty of communication at a busy metropolitan intersection where heavy vehicle traffic meets with dozens of pedestrians.  It's a remarkable system.  Red light means stop, walking man means it's safe to go.  Ticking count down numbers means walk a little faster (smile)!
Imagine how dangerous life would be without this.  Thousands of pounds of moving, motorized equipment don't mesh well with fragile human anatomy.  If you stand back, there is a lot of beauty to appreciate in the crossing signal and that's what Therese was going for.
SOLUTION
She designed this system for a new condo in Emeryville, CA.  The entire system is roughly 15' x 40' long and contains 32 custom cabinets that project images on a Lucite Lux diffuser lens.  What was in the box was the core challenge.
How it got hung in the entry way of the condominium complex was a calculated formula to determine loads and hardware requirements.  Some key elements came from our consultant Frank Berry.  Because of the California location, which is prone to earth quakes, we had to consider seismic factors and Frank is very good at teasing those out and helping determine the right structure.
To kick off the design, I built a CAD model, incorporating a number of LED light sources.  It consisted of 6 segmented zones in the box each with an aluminum panel and a laser cut image.  The LED light is placed behind the opaque sheet, similar to how a reverse projector works.  Each cabinet was a different size.  This allowed us to have 7 zones.
Therese's vision was to have a halo glow around the perimeter of the cabinet.   At this point, I set out to build a plan for it.
We made prototype GOBO's with projection lenses for Therese to evaluate.   GOBO's are often seen at malls or sporting events; they project images onto walls or the floor with dramatic effect.
We implemented project management right out of the gates, which comprised of weekly phone calls to determine what was working and what wasn't.  The challenge at this stage was to get the images as large as she wanted.  We considered several options, ultimately landing on the idea of dot pixel image. Therese hand punched each image with a mallet (as opposed to using a CNC plotter).  As an artist, she appreciated being directly involved in the fabrication of the project.
In the end, she chose to illuminate 24 boxes (others were left as architectural elements).  Several of these boxes contain count down timers similar to the ones you may see at an actual crossing signal location.  Therese did hand layouts of perforated aluminum, opaque material, etc. which created an array of light dots.  Our role was to provide her the tools to make this happen.  She ran with it, which is what great artists do – they experiment with these tools to create their desired outcome.
After roughly two years of design, fabrication and local approvals, the mosaic was installed.  We created the entire "unit" here so the installation would go without a hitch.  We had an extensive series of shop drawings to ensure that what we fabricated in the shop accurately represented her vision.
Numerous decoders, power supplies, LED's, count down timers, etc. meant the wiring schematic was quite elaborate.  Essentially, it was modular, allowing us to connect patch cables, etc. as needed.  You couldn't ask for a better system, it worked beautifully.
In total the installation panned out extremely well.  I wish I could say the same for the logistics! Our team here in Milwaukee assembled everything from nuts & bolts to complete wiring harnesses along with an extensive series of program testing. They then broke it down and packaged it so that the appropriate product was accessible at the right time to match the installation plan.
We crated it and shipped it to Emeryville, then hopped on a plane to meet it there.   However, the crates got lost in Utah and then somehow got stuck in Fresno (at least they didn't land on the opposite coast!).  As problem-solving is second-nature to our team, we rented a truck and with some added windshield time, we retrieved the crates in Fresno to avoid delaying the installation.
The site installation took place over a staircase in the entrance of the building.  To our advantage, the scaffolding was left in place by the dry wallers that had just completed tightening up the exterior of the building. We did the entire install off this scaffolding and ladders positioned three stories up.  We shipped supporting brackets out several months earlier to have them pre-installed, we were happy to see that the contractor had installed them perfectly.
The mounting frame assembly process was similar to putting together an inverted dock or peer. If any of you remember the toy erector set, envision it on a large scale. It was essentially a frame structure installed in the ceiling with bolts, nuts and screws fastening it together.  Also, we attached a junction box, electrical wiring, harnesses, patch cables, etc.  You get the point, truckloads of wiring!
The mosaic was connected to a power supply and controller in the building's utility room, roughly 75 feet away (we called it the umbilical cord!).  The system has several access options.  If needed, the mosaic could be programmed with a computer in the utility room by direct connection.  But it can also be connected via WIFI.  WIFI enabled Therese to be outside in front of the sculpture when programming the mosaic.  This benefit allowed for viewing during the programming process.
David West, from Wunder, is a lighting & controls consultant in Huntsville, California and served as a great addition to our team.
Another surprising tidbit of info is that the sculpture is so large, it has its own sprinkler system.  This is a requirement to prevent the mosaic from interfering with the building's sprinkler system.  Designing this element turned out fabulous.  The system is so subtle that you can't even see it, achieving the goal that it doesn't take away from the aesthetics of the mosaic.
AWARD-WINNING OUTCOME!
Before we left California, we ran the mosaic through rigorous test cycles.  These tests were performed for the building owner, construction management, Therese and ultimately peace of mind.  It performed beautifully and passed with flying colors.   Due to its elaborate nature, one would think a splice or a connection would have a bug in it somewhere.  So we are absolutely delighted that it has been running perfectly since the install in March, 2015.
The programming of the mosaic can be compared to conducting an orchestra.  With more than 100 control points, it becomes equivalent to an orchestra with 100 musical instruments.  Any production on such a large scale can be hugely challenging.
I find it mind-boggling!  How does one organize the lights to change in unison at any given time and any given color in any given sequence?!  In my mind, so many options could lead to decision paralysis.  Therese did a phenomenal job.  The end result is a masterful symphony of lights, shapes, colors, etc.  I'm sure the public release of the mosaic was a great source of pride and sense of accomplishment for Therese.
In fact, the mosaic won the Lucite Lux "Just Imagine Award" for public art.  The JUST IMAGINE Awards celebrate designers who embrace the originality of working with and creating light sculptures using LuciteLux® acrylic.  I may be a little biased, but I'm not surprised Therese won this award.  She has the talents and creativity of the best of maestros. This public art sculpture will dazzle your intellect!