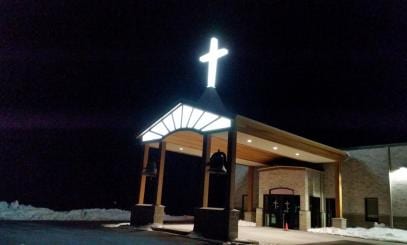 Light Emitting Diodes are a familiar light source that have found their way into many new and extraordinary places for all the right reasons. When an electric current passes through a tiny stack of gem stone chips, a light is emitted. Because L.E.D.s are low voltage, usually 12 volts, they consume a fraction of the energy required for other light sources. Neon, for example, may require as much as 10 times that of L.E.D.s. Colored L.E.D.s are often warrantied by their manufacturers for up to five years or 100,000 hours of continuous operation. L.E.D.
Color changing L.E.Ds or RGB L.E.Ds are easily controlled in terms of color and brightness.
RGB's can be used to set mood and feel to a structure, building, or room. This might also include the feel of temperature. Warm colors feel warm and cool colors feel cool which can be directly related to energy savings in climate control areas. (AC in the summer and/or Heat in the winter) Using DMX controlled L.E.D.s, we can achieve many different colors and brightness levels to help set the feel for your environment.