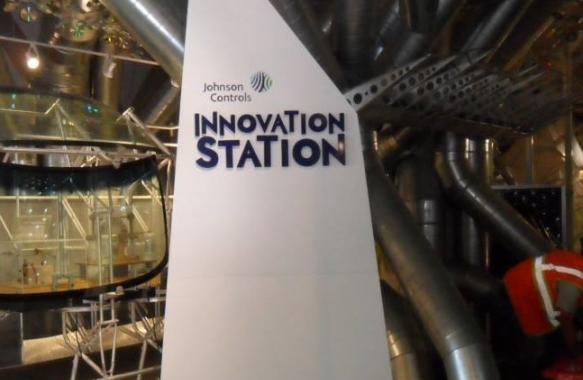 Johnson Controls, Inc. sponsors three new exhibits at Discovery World Museum that showcase the highly innovative work the company has done throughout its history, necessitating custom museum signage for the exhibits.
There are 3 phases to the expansion: Innovation Station, Innovation Gallery and Innovation Planet. The in-house staff at Discovery World developed all of the creative design and we are extremely pleased they chose to partner with us again on their custom exhibit signs. In the past, we've worked with them on corporate exhibits like BIG (Caterpillar) and Milwaukee Muscle (Briggs & Stratton).
The initial sign was a free standing tower, which is called "Innovation Station". The Innovation Station is all aluminum and features 1" thick cut out acrylic letters that match JCI corporate blue color. Size: 12' T x 5' 6" W
The second phase is called the "Innovation Gallery which consists of ½" thick acrylic sheet for the background; ½" thick acrylic circular shapes; 1" thick lettering. The unique part is that it's not only acrylic on the front side, its 1/8" acrylic on the back side as well. The lettering was produced by Gemini Lettering – a great partner of ours that does awesome letters faster than anybody! This sign was hung from a custom-built metal pipe sculpture that resembles a tree. Size: 3' T x 9' 9" W
The third and final phase of this custom museum signage project is a hanging channel letter sign for the "Innovation Planet." Each letter is about 41" tall; all of the letters are custom depth and have 2" aluminum square tube joining them together. Discovery World is providing the programmable RGB LED internal illumination. The sign will be suspended over a one-story spiral staircase on a track to enable access for maintenance and service. The power supply will be internal. All the LED's are mounted on a baffle inside the letter.