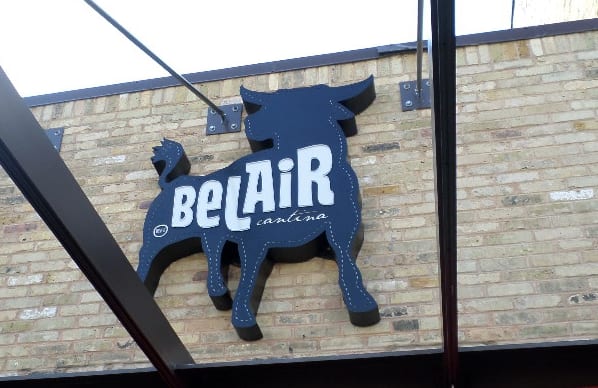 Our client, BelAir Cantina, is a popular Mexican restaurant with several locations in Milwaukee, Wisconsin. Based on previous work we've done with their management team at the High Hat Lounge, we were selected for the signage at the new location on Downer Avenue.
Sign Effectz, Inc. brought a high level of familiarity with the building since we had done work on it in the past. In 2013, we designed, engineered and installed a highly visible, customized canopy for VIA, the restaurant that previously occupied this space. The eye-catching, vibrant red canopy helps the restaurant and its patio stand out. It also adds a touch of class to the storefront that just couldn't be delivered with table umbrellas.
During the early stages of design we listened closely to Belair's objectives for the new signage. The key question was "how did they want to represent the BelAir Cantina image?" Brand integrity is very important since they have a number of locations. That means all signage has to maintain consistency.
Plus, like all good Milwaukee restaurant signage, BelAir's new signs need good visibility. The Downer Avenue restaurant is located in a popular part of town with high levels of pedestrian and vehicle traffic. To capture the attention of this traffic, we elected to brand the building in as many places as possible. And the outline of the bull has white dot stitching, which draws attention and gives it definition.
The bright red canopy is a primary visual feature. It covers the outside dining area in the summer. There is a great deal of foot traffic so the BelAir bull logo faces downward giving diners and pedestrians walking underneath a good look at it.
When it's not in use, the canopy folds in against the building. However, we wanted to make sure the brand was visible whether the canopy is open or closed. So we added a 12" tall version of the logo to the edges of the canopy. Even when the canopy is closed, nearby traffic will still see the iconic bull logo.
This sign package also included large vinyl graphics for the restaurant's main entrance, sliding doors and windows. The main entrance sign features hours of operation.
The sign permit process was more complex due to the necessity of getting approval stipulated in three sign ordinances: the City of Milwaukee, the Downer Avenue District and the historic district. We presented the size, shape, etc. to each of them. The client was impressed with our ability to earn approval for from all three entities as well as fabricate and install the sign package before the restaurant opening.
Sign Effectz, Inc. is great to work with on new signs. They understood quickly what we wanted to accomplish with the BelAir Cantina sign and outdoor canopy. Their design concepts were spot on, execution from start to finish was professional and their installers were great. I would definitely work with them again on any new restaurant sign project."

– Scott Johnson, Partner, Hi Hat Restaurant Group