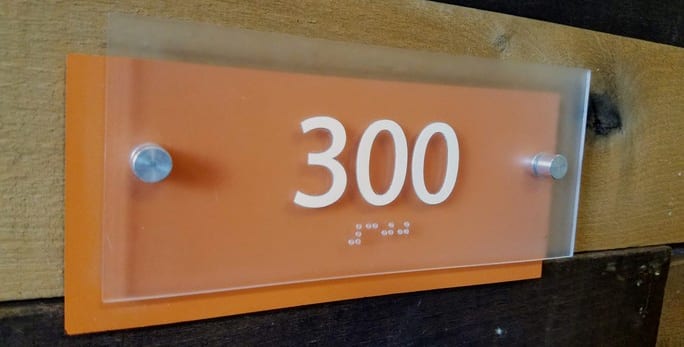 Sign Effectz, Inc. is your complete source for ADA compliant signage. We can build ADA compliant signs for general contractors, building and property owners and managers as well as manufacturing companies, retail stores, restaurants, offices, schools, universities, municipalities and government agencies.
Your custom-designed and custom-built ADA compliant signs are not just functional. These architectural signs can be customized according to your specific colors, sizes, and messaging. We'll help you design them to enhance your physical environment and align with your brand requirements.
The designers at Sign Effectz understand how to combine materials, substrates, colors and images to build distinctive ADA compliant signage. There are no cookie-cutter signs here!
Our experienced project managers handle everything from start to finish. No more worrying about whether target occupancy dates will be met, trying to figure out what ADA signs you need or being concerned about whether your signs are up to code. We'll create a Master Sign Plan that is code compliant, unique to your space and aligned perfectly with your brand.
Have an especially challenging deadline? Our Account Managers can offer a temporary sign solution for quick occupancy while the primary ADA signs are being created.
We have the experience you need when it comes to designing, fabricating and installing signage to meet code compliancy regulations. Trying to navigate various codes and regulations related to ADA signage on your own can be daunting. Count on us to deliver the right ADA sign solution for your next project. Our ADA sign projects meet or exceed customer expectations.
At Sign Effectz, we build and install signage that strikes an emotion and puts your unique brand identity front and center. And we can help you successfully meet your occupancy dates! Contact one of our Account Managers today to get started.